WORKS ON MOST SURFACES

WORKS ON

WOOD
METAL
PLASTIC
GLASS
BRICK
& MORE
Regular price
$ 37.13 USD
Regular price
$ 43.13 USD
Sale price
$ 37.13 USD
Unit price
per
Sale
Sold out
This is 3 books in one ❤️ 
The SeaCult - a crafty beach novel
A story about love, mental illness, chasing your dreams, and everything that happens in between 
scroll below for a glimpse of the book 
When Jess Sea disrupts her entire life to chase a dream, she gets far more than she bargained for.
In this captivating entrepreneurial journey, set sail into a sea of chaos and dive into the extraordinary life of Jess Sea, an impulsive inventor with ADHD, PMDD, and a deep love for the sea and self-sabotage.
As she throws herself into an entrepreneurial journey beyond her wildest dreams, she meets a group of women on the internet that change her life forever, for the better.
When betrayal strikes their close-knit circle, it all comes crashing down like waves around them.
Join Jess Sea as she embarks on an unforgettable journey of love, friendship, success, and mental illness.
Her story is a beacon of hope for anyone struggling with mental illness and is a powerful reminder that with unrelenting grit and determination, we can achieve our wildest dreams.
The SeaCult written by JessSea
It was the spring of 2014 when I reached the dirty thirty and irresponsibly quit my day job in hopes of pursing my dream. What was my dream exactly? Mostly to not have to put on real pants ever again.
I I put my dream on hold and built a few crafty groups for a couple friends. Little did I know, the empire I was really building, was my own. 
A few months later, my life was forever changed.
This is a story of hope  
391 pages - 
INTRODUCTION
Suddenly, the van races towards my face - or perhaps I am even racing towards it. Either way, in this moment it makes no difference. The fear, the pain, the trembling shakes. They all remain. None of it fades. Sometimes it's hard to even tell the difference between them when they all seem the same.
Everything goes still. Silence is all I hear,though it's clear to me that sounds are happening around me. The world keeps moving, but my world stops. Silence engulfs me as my vehicle plows into the van in front of me. From a confusing distance, I watch as it happens.
For a moment in time, it is as if I am floating, watching my body from above. Certainly, my body is hurting, but I feel none of it in this moment. Even my pain is momentarily silent. There is nothing. I am nothing. I am already dead.
The smell of smoke suddenly fills my nose. Confusion sets in. How can I smell if I'm a ghost? My chest tightens. My lungs refuse to breathe. Smoke surrounds me.
What is happening? I open my mouth to scream, but no sound comes out of me. Did Ursula take your voice bitch? Scream, you idiot! Anything! Any sounds would do, but no sound comes out of me as my lips continue to move.
The silence is nearly deafening. It echoes in my ears and bounces around the darkest parts of my mind, filling my existence. My lungs are filled with smokey air. My eyes are looking straight forward, in a hauntingly dead stare. It's in this moment that I notice that even silence has a sound. To my surprise, it's eerily loud.
Seconds later, the blackness engulfs me as my breathing slows. My will to live is nonexistent. Closing my eyes, I lean into the silence and let it carry me a questionable distance. It would be so nice, just to give in to it completely. To surrender this shell of a body and to not feel anything. I am nothing. I am nobody. Breathing in what I hope is my last breath, the smoke engulfs me. In this moment, I am happy. I am free.
Share
View full details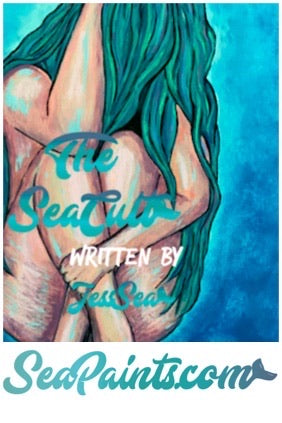 As I finally settle into bed for the evening, I start to catch up on my Facebook notifications. Well, attempt to at least. Lately, they've been coming in by the...

 As I finally settle into bed for the evening, I start to catch up on my Facebook notifications. Well, attempt to at least. Lately, they've been coming in by the...

WHAT IS PMDD? I could explain what it's like for me but I interviewed other women from all over the country to get their points of view too. Below these...

WHAT IS PMDD? I could explain what it's like for me but I interviewed other women from all over the country to get their points of view too. Below these...

WHAT YOU'LL NEED The Secret Shades A Small Damp Brush WATCH VIDEO BELOW TO LEARN HOW

WHAT YOU'LL NEED The Secret Shades A Small Damp Brush WATCH VIDEO BELOW TO LEARN HOW
Multimedia collage
Regular price
From $ 31.13 USD
Regular price
$ 39.13 USD
Sale price
From $ 31.13 USD
Unit price
per